Victor has been a catalyst to improving the lives of others for over 50 years and provides some of the best training one can obtain in the clinical realm. As an Intern you are brought into the organization as an integrated part of the staff and receive desk space, computer, phone, etc., and are assigned a Clinical Supervisor and a Mentor to ensure you have adequate access to support and supervision. In the first 30 days our interns complete training and orientation and begin shadowing with various supervisors and staff to help them build connections throughout the agency.
Interns are thoroughly trained on (though not limited to) clinical documentation, diagnosis, assessment, treatment planning, CANS, progress note writing, case management, referring to other services, crisis intervention, treatment practices, mandated reporting, lethality assessment, HIPAA, and more. After extensive didactic training, you would then shadow staff for various session types. Once training and shadowing have been completed, you receive your first referrals. Supervisors/mentors assist along the way providing in-vivo supervision. Caseloads vary depending on individual interns.
Our interns are delivering clinical services within 30 to 60 days depending on the site and program and managing a caseload with increasing independence as they move into their second semester, while consistently utilizing case consultation and supervision. Every student intern has always met or exceeded their required client contact hours in our programs.
If you're ready to be a part of an organization that values collaboration, empathy, and transformative change, we invite you to explore our internship opportunities. Join our mission of empowering families and together, let's create a brighter and more promising future for those in need.
Internships vary based by location throughout the state of California; they can consist of baccalaureate internships to clinical internships for students enrolled in a graduate program. Graduate program internships are clinically focused for psychology and social work programs (i.e., MFT Trainees and MSW student interns).
Victor interns are often vocal about the welcome they receive and the benefits of the onboarding experience and supervision in comparison to their peers. By the end of their internship they are capable of providing clinical therapy including assessment, case planning, treatment, documentation, and billing, for a range of populations.
Victor often hires interns after their year-long internship, connecting them to other Victor sites if they move and want to continue with the agency. Throughout your internship, we strive to match you with age groups or diagnoses you have interest in and encourage training in areas of interest (modalities, etc.). We also ensure that students adhere to their learning contracts and objectives, rather than focusing on the agency need.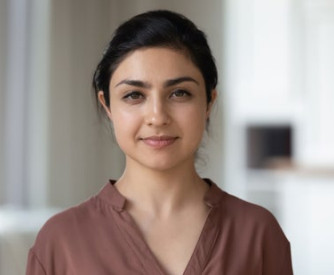 Some of our Participating Universities and Graduate Schools include:
California State University, Chico
Simpson University, Redding
University of Southern California (School of Social Work)
California State University, Stanislaus
Azusa Pacific University
Victor Valley Community College
Pepperdine University
California Baptist University
Being a student intern at Victor set the foundation for me to be where I am today. Victor invested in me from day one and continues to invest in me as an employee. The training I received as a student was more comprehensive than any of my other cohort members. The mission and values were seen across the agency from day one in interactions with supervisors, OSS staff, and clinicians alike. Finally, the extensive supervision provided was invaluable and I feel so lucky to have started my clinical journey here at VCSS.
VERONICA H. PEREZ, M.S., LMFT, IFECMHS
CLINICAL SUPERVISOR
I started as a student intern 7 years ago and had the privilege of being trained by the most amazing clinical supervisors and clinical staff. This internship taught me all the clinical skills that I was eager to learn and practice while in school. I am fortunate to still be with Victor 7 years later as a clinical supervisor and giving back to the students coming in as my supervisors did for me 7 years ago.
JASLEEN TOMM, LCSW
CLINICAL SUPERVISOR
Getting the opportunity to make your own schedule makes it easier to manage your school and workload. You are also very supported by the supervisors.
AMANDA HERNANDEZ
MFT TRAINEE/FAMILY SUPPORT COUNSELOR
I was as student back in 2005 and I quickly knew I would spend my career at this agency.   This agency has continuously invested in my development ever since.  I was a well-trained clinician by the time I graduated with my Master's Degree which allowed me to provide the best possible treatment to children and families.  I was and continue to be mentored and trained to this day, and am honored to serve as the Director at the same site I was a student.
JENNIFER LYON, MS., LMFT
EXECUTIVE DIRECTOR